Chad Randall, b5′s Director of Sales, posted this guest blog entry at Problogger: 10 Ways to make your Blog more Attractive to Advertisers. And, one of the things he said was:
8. Don't use Google AdSense on your site.

OK, this could be the most painful one for most people especially if you are generating a few hundred bucks a month from it already. But Google ad sense devalues your site and makes it look unprofessional. You have to ask yourself, "Do I want some real revenue from my site or Google's table scraps."
With Google AdSense being one of the most favoured ways to make money online, it definitely riled up a few people. And, I can understand where they're coming from. I mean, if you're making a few hundred dollars off AdSense a month (or thereabouts) – or if it's the only way you can actually see some kind of revenue for your blog – then, someone suggesting your site/blog looks unprofessional and unattractive to other advertisers just won't make anyone happy, right? In fact, b5media does use AdSense.
So, is Chad being contradictory/inconsistent? No, not really. You can read more about what Chad has to say about this debate in his follow-up post at his own blog called AdvertiseSpace: Why I hate Google AdSense Part I.
Chad's points are definitely interesting and valid. In fact, reading this whole debate made me remember my initial forays in to web publishing and online advertising sales. Back when AdSense, TLA, and all these other programmes were non-existent.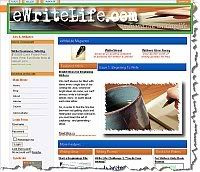 My first web publishing project was eWriteLife.com (which, incidentally, just received a makeover/revamp). That time, there were no readymade advertising schemes like AdSense, YPN, TLA, etc. Google was just brand new – back when I had to explain to people what it was and I had to convince folks that it was much better than AltaVista or Yahoo search. And, the most common way to build a site was through Geocities. That really dates me on the web, eh?!
But, I digress.
Anyway, even in the early 2000s – without a sales or advertising background – I was practicing every single point from the tips that Chad gave (except eWriteLife wasn't a blog back then and #8 was not an option). And, yes, even though my site was relatively small (and very niche) – with just a couple of thousand newsletter subscribers, I managed to sell advertising space on my web publications. Earning $50-100 a month on ad space plus just a handful of affiliate links was plausible (and, the deals were never dependent on clicks). Not that it earned that much all the time, as I was still a web novice who had no idea what I was doing back then. And, I was only doing it on the side because the idea of making money solely on the web was just too strange back then.
In any case, this made me take a quick look at my AdSense earnings for eWriteLife the last couple of years. Although I believe I've been running AdSense since February 2004, I've only seriously started seriously using it a year later.
So, with this in mind, I looked at my eWriteLife report and it showed that between Feb 2005 – Jan 2006, the site earned just short of US$100. And, between Feb 2006 – Jan 2007, the site earned just a bit over US$50. Much, much less advertising money, for sure. But then, I stopped running 'Advertise Here' banners and such.
Before I started relying on AdSense and similar programmes, I ran direct ads on the site. If I remember correctly, I had a single client before who advertised US$50 per 3 months for a small graphical ad (around 150×150 px) – and ran the ad for 6 to 9 months (plus a few bonus months) on the site. I had a handful of other clients who also ran smaller ads in the newsletters.
Thinking of it this way, are we really better off targeting such advertisers instead of relying on AdSense? Is there a way to have a balance between 'reliable' ad programmes like AdSense and higher paying direct ads? But then, why would anyone pay good dollars directly to us if they know they can afford cheaper alternatives – and we're accepting small change from AdSense on a per click basis?
So yes, I guess, there are a few questions that have been raised by this debate. And, it's all worth thinking about and weighing in.